2017 National Inter County Teams results


| | | |
| --- | --- | --- |
| Place | Team | Points |
| 1. | Berkshire & S Buckinghamshire | 498 |
| 2. | Northamptonshire | 457 |
| 2. | Cambridgeshire | 457 |
| 4. | Swim Wales West | 456.5 |
| 5. | Derbyshire | 431.5 |
| 6. | Worcestershire | 425 |
| 7. | Hertfordshire | 420 |
| 8. | Warwickshire | 405.5 |
| 9. | Lincolnshire | 348 |
| 10. | Staffordshire | 331.5 |
| 11. | Wiltshire | 321.5 |
| 12. | Gloucestershire | 306.5 |
| 13. | Cumbria | 301 |
| 14. | Norfolk | 293.5 |
| 15. | Shropshire | 283 |
| 16. | Bedfordshire | 272.5 |
| 17. | Cornwall | 256 |

Follow this link to the full results

________________________________________________________

World Masters Championships Budapest

Three Cumbrians swam at Budapest in August 2017. Results were:
Craig Heggie (Workington) - 100m Breaststroke 9th (1,18.73), 200m Breaststroke 13th (2,58.10)

Judy Hattle (Carlisle Aquatics) - 50m Butterfly 2nd (32.51), 100m Butterfly 2nd (1,13.66), 200m Butterfly 2nd (2,50.07),

400m IM 4th (6,16.70).

Graham Pearson (Carlisle Aquatics) - 50m Breaststroke 6th (37.12), 100m Breaststroke 4th (1,24.28), 200m Breaststroke 5th (3,16.39) , 200m IM 17th (3,09.95), 400m IM 7th (6,51.31)
__________________________________________________________________________________
British Summer Championships - 2018
Menís 800m Freestyle & Womenís 1500m Freestyle
A Menís 800m Freestyle and Womenís 1500m Freestyle events will be introduced at the British Summer Championships 2018. The Home Nation Summer Meets are expected to follow suit.

Clearly an opportunity will have to be provided, within the Qualifying Window (March 1 to May 28) for swimmers to post times into British Rankings so that they become eligible to be invited to compete in these events.

ASANWR will include these events in the 2018 Summer Championships in 2018. In order to comply with Meet Licensing Requirements only ranked times can be used for entry into these events and it is expected (although this is still to be confirmed) that ranked 400m Freestyle times will be used for entry to the Menís 800m Freestyle and ranked 800m times will be used to enter the Womenís 1500m Freestyle.
______________________________________________________

Congratulations to Shaun Winstanley (Workington)

who has won the
Swim England North West Region regional Aquatic Award for Volunteer of the Year, 2017. Shaun will now go forward to the National Awards to be held on 11th October in Birmingham.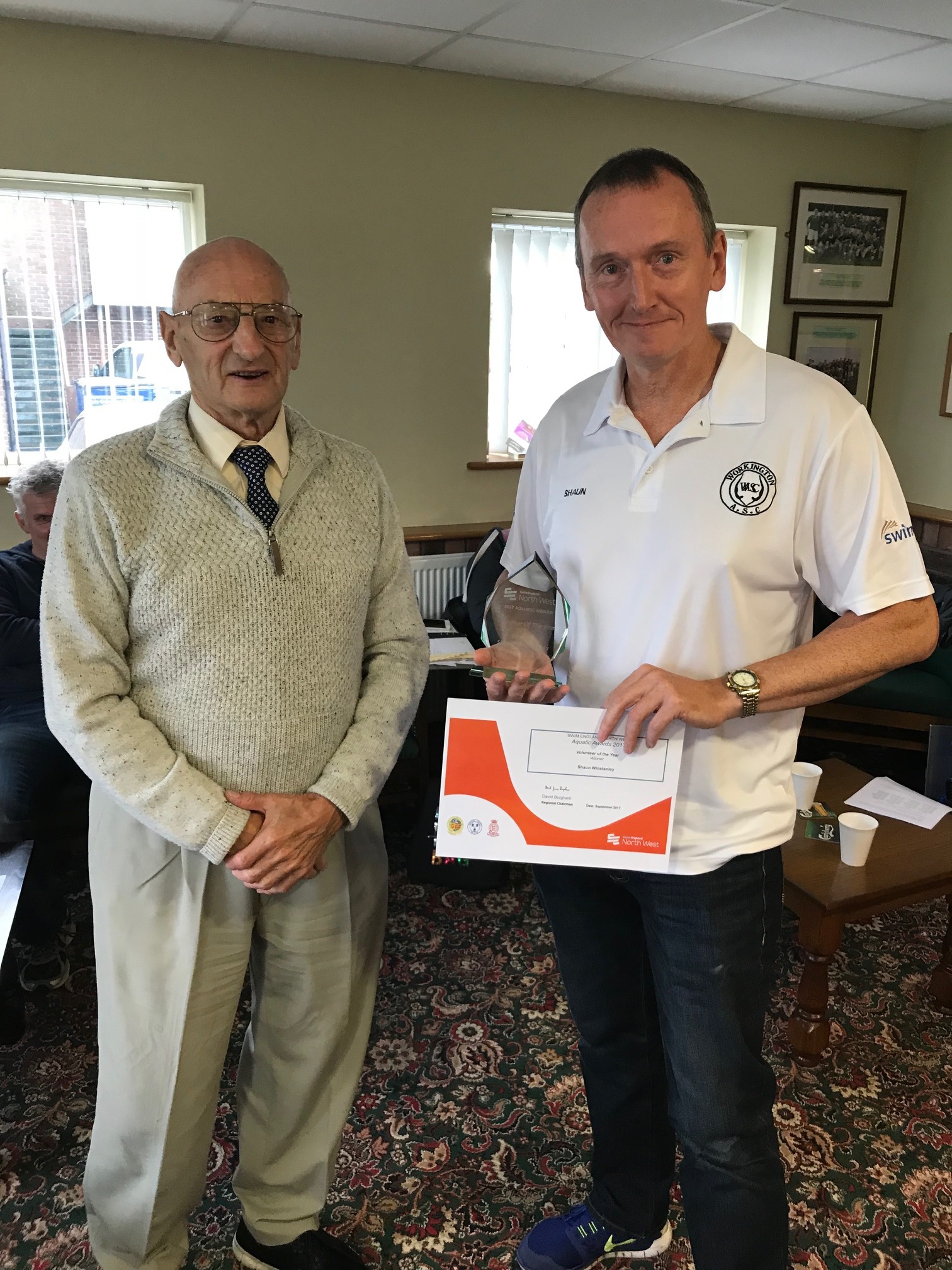 Shaun receiving his award from county President Raymond Watson



__________________________________________________

2016 National Inter County Teams
| | | |
| --- | --- | --- |
| Place | Team | Points |
| 1. | Scotland West | 554 |
| 2. | Dorset | 527 |
| 3. | Devon | 490 |
| 4. | Sussex | 455 |
| 5. | Worcestershire | 445 |
| 6. | Warwickshire | 436 |
| 7. | Staffordshire | 385 |
| 8. | Cumbria | 376 |
| 9. | Lincolnshire | 372 |
| 10. | Northamptonshire | 366 |
| 11. | Cambridgeshire | 350 |
| 12. | Norfolk | 333 |
| 13. | Wiltshire | 309 |
| 14. | Bedfordshire | 266 |
| 15. | Cornwall | 263 |
| 16. | Shropshire | 236 |
Follow this link to the full results
_____________________________________________________________________

Swim The Eden - update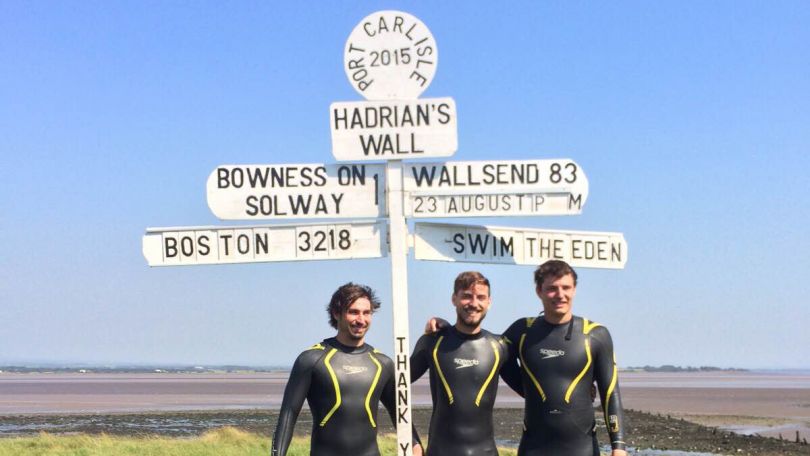 The Eden Swim project was completed by brothers Jack, Calum and Robbie Hudson in August 2015 when they swam 90 miles down down the River Eden to raise funds in aid of the Swimming Trust.
The swim took 9 days with the brothers swimming up to 12 miles a day. They clambered down waterfalls, over weirs and rocks to become the first people ever to swim the length of the river.
The swim was in aid of the Swimming Trust who have been in discussion with the brothers and have decided that the best use for this income would be to focus it on improving swimming teaching in Cumbria. All the money will be put back into swimming through setting up a bursary scheme in Cumbria to help more swimming teachers gain their level 2 qualification.

The bursary scheme has been funded by £3000 from the 'Swim the Eden' project , £1000 from the Swimming Trust and £1000 from Cumbria ASA, which was launched on October 1st 2016. Further contributions may be made in the future. These funds will be 'ring fenced' by Cumbria ASA and will not be available for any purposes other than to assist the training of level 2 and above teachers/coaches. Details of the bursary scheme are available from Martin Tickner.
_____________________________________________________________
ASA Board statement regarding the hearing impaired
The ASA Sport Governing Board have agreed the following in relation to hearing impaired swimmers.
Multi-classification events are only open to swimmers with an impairment which is included in the Paralympics i.e. classifications S1 to S14 inclusive. Classification S15 (Hearing Impairment) is not included in Paralympic Events.
Hearing impaired swimmers (S15) may compete in events if the meet conditions allow for S15 events. Medals are to be awarded within this specific classification as these swimmers are not eligible to compete for medals in multi-classification events.
S15 does not have to be swum separately as the results can be extracted from the overall event.
Hearing impaired swimmers may compete in any able bodied event. An appropriate starting signal should be agreed between the swimmer and the referee.
_____________________________________________________________________________