Annual Council Meeting

The 2020 ACM will be held at 10.30am on Sunday November 22nd by Zoom.

Anyone wishing to attend will need to contact Martin Tickner for Zoom access information.

_________________________________________________________________

Return to Competition
As we are all aware competitive swimming cannot take place in the present unprecedented and challenging times and this is unlikely to change
in the foreseeable future. Nationally, many clubs have returned to training albeit with limited hours compared to pre-Covid, but others are at
various stages in their return for a variety of reasons.

At Swim England a Swimming Leadership Group has been formed in order to formulate a way back to competitive swimming and to adapt
competition structures to accommodate the current situation. They have suggesteted a five stage approach:
Level 1 - Introducing competition into normal training
Level 2 - Informal racing activity (internal club time trials)
Level 3 - Semi-formal racing activity (so called Level X racing - the first step in a return to competition)
Level 4 - Licensed level 4 competition
Level 5 - Licensed level 1, 2 3, league and masters competitions

Levels 4 and 5 are many months away and are likely to look very different from what we have been used to in the past, but Levels 1 and 2 can
start now and Level 3 (Level X racing) will be available very soon; the concept is currently being tested by clubs from each region.

It is intended that Level X Racing will allow the registration of times gained during normal club training sessions onto a national ranking system that
will be separate from the "normal" rankings database. This will only be open to Category 2 swimmers.

What about 2021 county championships? the answer is "we don't know" but what has been decided is that they will not take place in the normal
"window" i.e. January to March. However they MAY take place up until 25th July 2021 except for the regional championships window and national
championship weeks, potentially with reduced events and reduced age groups - but no decisions have been taken on this yet at national level.

The regional championships window is currently 15th March to 23rd May.

The British Swimming Championships are currently scheduled for week commencing 12th April.

The national qualifying window opens nominally on 8th March and closes on 9th May - if it opens at all.

The British Summer Championships are currently scheduled to start on 27th July, and the SE Summer Meet is scheduled for August 4th to 8th.
 
Clearly, these dates and the conditions attaching to these competitions depend on how COVID affects the nation over the coming months.
Turning to the situation in Cumbria:
- as everyone will be aware we had to cancel the 2020 Diddy League competition.


- for the 2021 county championships/age groups we are unable to set a date, the programme, qualification times, etc. but we will endeavour to keep you updated.
- it will not be possible to hold our annual (pool based) "Winter Meet" in its current format in 2020 due to current

restrictions.
- the
c
ounty secretary and meet organisers have attended Swim England meetings to understand forthcoming guidelines relating to competition.
- Cockermouth and Ulverston are taking part in the Youth Internet Swim League.
- the county exective and referees have met to

discuss what opportunities we could make available to the clubs and swimmers during these challenging
times.
Our aims and ambitions are as follows:
Virtual 'Cumbria Diddy League' competition (to be run in November/December):
This will take some ideas from Level X Racing and will be run over several weeks during clubs' individual training sessions, the results from each event/club will
be submitted to the Diddy League secretary to compile a final result for the competition.

This will be a "one-off" competition to give swimmers something to work towards and to test the concept of competition; hopefully it will lead to something bigger
and better.
Clubs will be consulted over the coming days and will be given the opportunity to take part. Obviously, clubs will have its own unique circumstances regarding pool
availability and local restrictions and it will be for them to make the decision if they can/wish to participate.

We anticipate that Category 1 and Category 2 swimmers will be able to take part.

Further information will be provided as soon as possible.
Virtual 'Cumbria Winter Meet' (aim is to run this in January/February 2021):
We are expecting that Level X Racing will commence soon and we hope to run a reduced Winter Meet programme early in 2021 utilising experience/knowledge
gained from the Level X Racing initiative.

It is anticipated that events will be swum within clubs during individual training sessions and compiled onto an electronic online Cumbria rankings system (separate
from the national Level X Racing database) which would also be used to produce the final results of the competition.

Ideas are still being developed but again we anticipate that Category 1 and Category 2 swimmers will be able to take part.
Cumbria Open Water League (COWL):
Thanks to the initiative of Mark Newby the county held a very successful open water league this year in conjunction with Epic Events. This gave swimmers experience
in open water swimming and provided an element of competition which has been missing for most of the year and was probably one of the few opportunities that were
available for competitive swimmers in the summer of 2020 ANYWHERE.
_____________________________________________________________________________

Cumbria President
John Freestone (Copeland) was installed as the President of Cumbria ASA for 2020/21 at the county championships at Workington.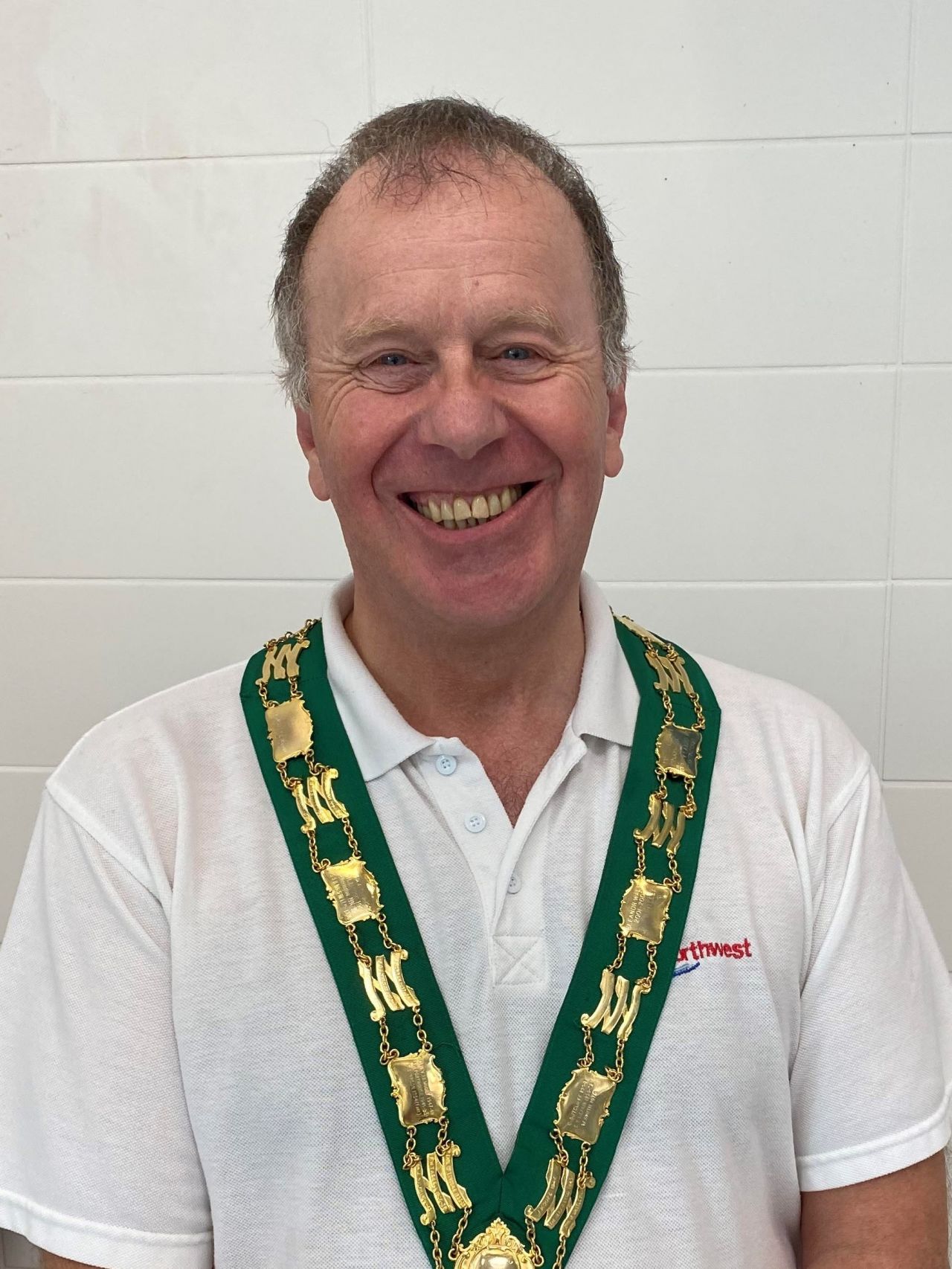 ... with immediate Past President Martin Tickner


_____________________________________________________________________________

British Swimming Referee Examination

Congratulations to Russell Parker who has passed the theory and practical elements of the BS referee exam.

Russ is now the 7th fully qualified referee in the county.

______________________________________________________________________________

2019 National Inter County Teams results
Place
Team
Points
1.
Swim Wales West
466
2.

Worcestershire

446
3.

Cambridgeshire

438
4.
Leicester

shire

436
5.
Sussex
435
6.
Hampshire
425
6.
Dorset
425
8.

Warwickshire

414
9.

Gloucestershire

374
10.

Hertfordshire

366
11.

Norfolk

364
12.

Staffordshire

347
13.

Lincolnshire

311
14.
Cumbria
296
15.
Wiltshire
259
16.

Bedfordshire

254
17.
Cornwall
240

Full results at: https://www.swimmingresults.org.uk/swimming/results/2019/nctdiv2/
___________________________________________________________________________

Swim England and other fees for 2020
Category 1 - £9.20
Category 2 - £27.75
Category 3 - £5.20
Regional Fee: £50.00 per club £6.00 per capita
_________________________________________________________________________________________________________________________________
Swim England North West Long Service Award to Aquatics 2019
At the Annual Council Meeting of SENW it was announced that the 2019 winner of the Long Service Award was Ian Powley of Penrith. Ian will now go forward to the Swim England National Awards event that will take place on 30th November at The Great Hall at the University of Birmingham.
The Swim England National Awards 2019 seeks to recognise the success of clubs and individuals throughout the country. E
ach of the eight Swim England regions select winners from nine awards categories, with the
eight winners for each category forming the shortlist for the Swim England National Awards, with all regional winners invited to attend the ceremony in Birmingham.
Ian's abbreviated citation:
Ian got his first taste of swimming in Penrith, Cumbria at the old Frenchfield pool, on the river Eamont, aged 14, and swam competitively for many years at Penrith Swimming Club.

He has held many roles within Penrith Swimming Club and is currently President and Chairman. He still coaches three nights a week at the age of 79.

In 2005/06 Ian was only the second Penrith man to be President of the Cumbria Amateur Swimming Association and is still a member of the county Executive Cmmittee.
 
In 2002 he was awarded with a service cross for amassing more than 20 years' service for the RLSS (Royal Lifesaving Society) having been heavily involved with Penrith Lifesaving Club until it disbanded.
________________________________________________________________________

Annual Council Meeting of Swim England North West
At the Annual Council Meeting of Swim England North West held on Saturday 7th September 2019 Lesley Capstick (Kendal) was elected as the President of the region for 2019/20.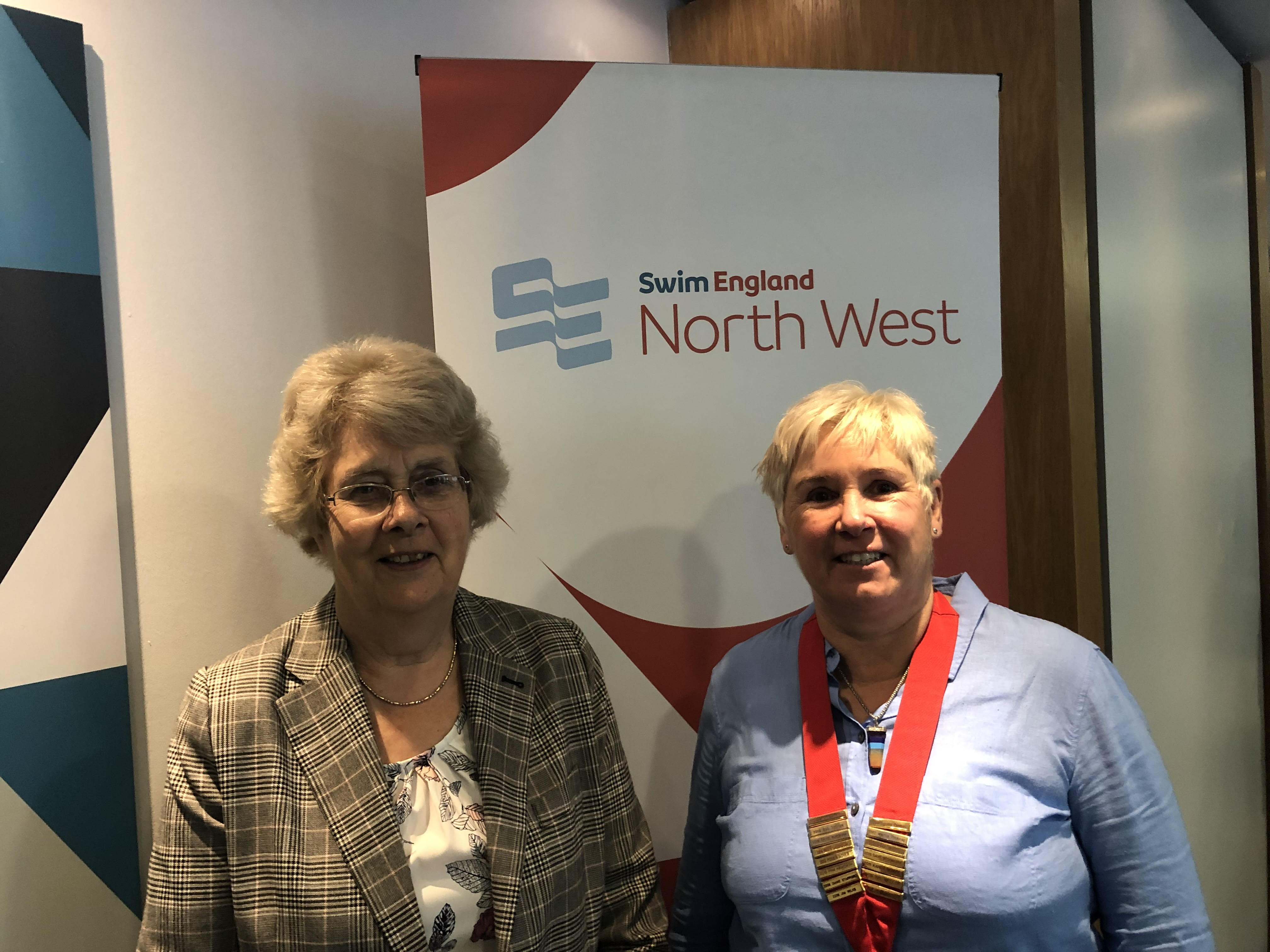 Lesley (Fawkes - retiring President) and Lesley (Capstick - incoming President)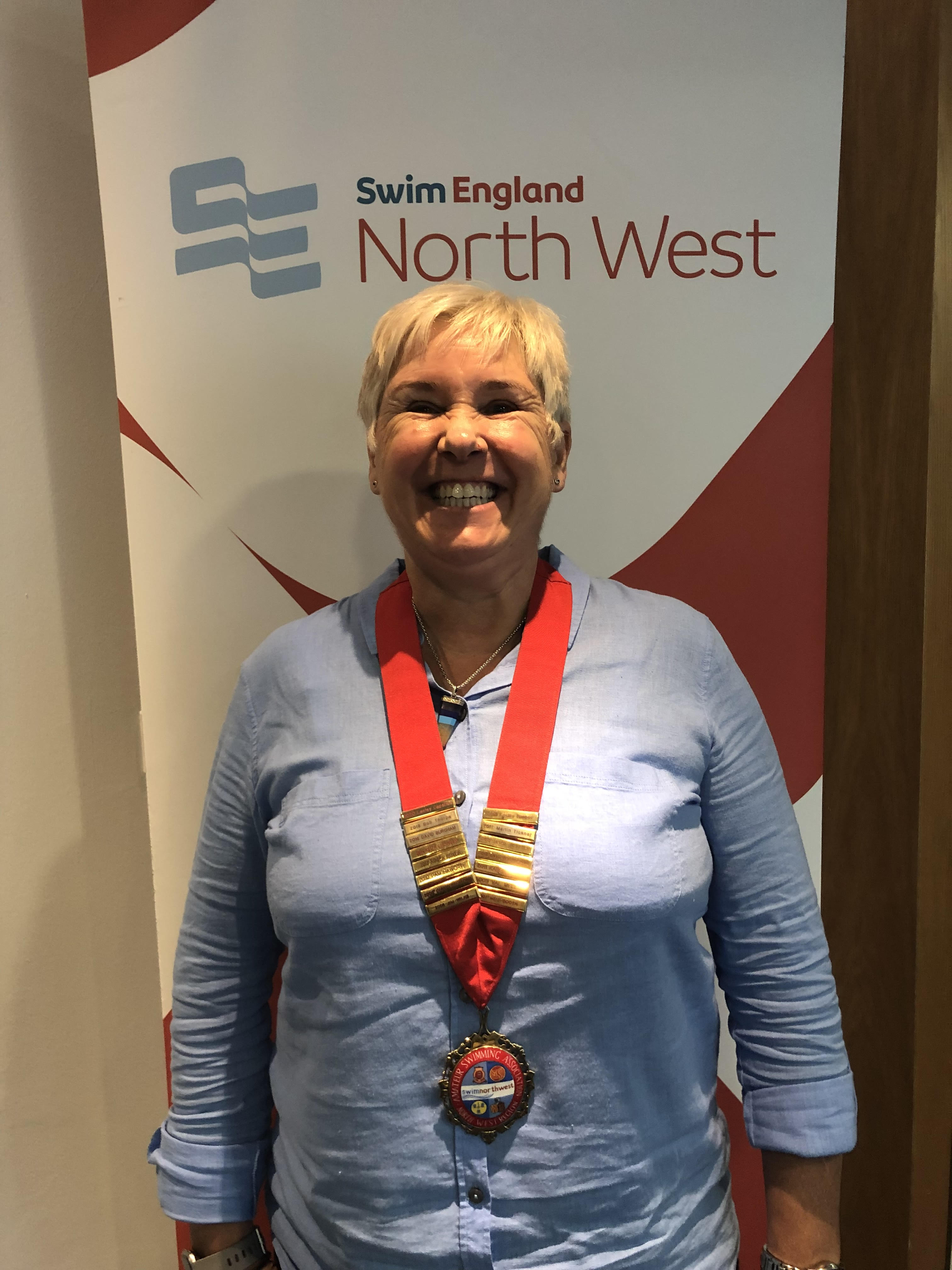 Also at the ACM, Mark Ralph (Barrow ASC) was elected to the Management Board of Swim England North West.


_______________________________________________________________________

Graham Pearson posthumous award
It has been announced that Graham Pearson has been posthumously named as the winner of the 2018 Cherriman Award. This is presented annually

by the Home countries Masters Swimming Management Group to 'the person or organisation who or which has done the most to promote and foster the cause of Masters swimming in Great Britain'.


Follow this link for more details.
https://www.swimming.org/masters/graham-pearson-cherriman-award/


______________________________________________________________________________




2018 National Inter County Teams results
Full results at: https://swimmingresults.org.uk/swimming/results/2018/nctd2/
Muriel Moffet has decided to retire from officiating at Cumbria ASA competitions and 'called it a day' at the 2018 Cumbria Winter Meet. Muriel has been a British Swimming referee since the early 2000's. She was President of Cumbria ASA in 2011-2012.
Although retiring from an officiating role Muriel will still be very much involved at Carlisle Aquatics, coaching, mentoring new officials and supporting her home club.

Thank you for many years of support and commitment.